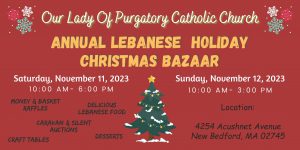 It's less than a month away – that's right it's almost time for the 2023 OLOP Christmas Bazaar. There'll be lost of tasty Lebanese Food, delicious pastries, wonderful handmade crafts, raffles, a Silent Auction, our famous Caravan of Values, a children's room, and most of all lots of laughter and fun.
Please join us on Saturday, November 11, 2023 from 10:00 am to 6:00 pm and Sunday, November 12, 2023 from 10:00 am to 3:00 pm at the OLOP Parish Center, 4254 Acushnet Avenue, New Bedford, MA 02745.
For more information please call (508) 996-8934 or e-mail us as officeolop@gmail.com.
See you there!