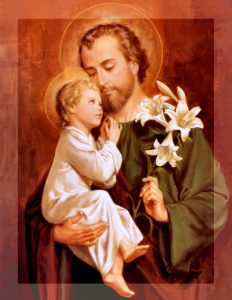 The St. Joseph Sodality of Our Lady of Purgatory Church was founded in 1918 by Msgr. Joseph Shebaya only one year after he had founded the Parish. The Sodality is first and foremost a spiritual organization and the Members of the Sodality have a special devotion to St. Joseph. Through the Sodality's works of service to the Parish, it provides fraternal and social opportunities to the Parishioners. The Sodality also supports the mission of the Parish through donations of religious gifts such as vestments, altar linens, icons, statues, and other gifts as needed.
Since its founding the members of the Sodality have gathered monthly, even during the years from 1933 through 1954 when the Parish was without a Pastor or a Church, to recite their monthly devotions.
The St. Joseph Sodality is the only sodality dedicated to St. Joseph in the Eparchy of St. Maron.
Officers of the Sodality are elected by the membership and serve three-year terms beginning on the Feast of St, Joseph. The Sodality Officers for the term of 2023 – 2026 are:
Jacques Barbour – President
Rana Choubah – Vice President
George Saba – Treasurer
Jano Baroudi – Secretary
For more information about the St. Joseph Sodality please contact Fr. Vince at ourladyofpurgatory@gmail.com or you may contact the Sodality directly at stjoesodality@gmail.com.