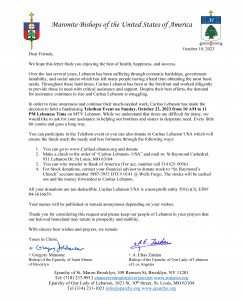 Dear Parishioners of OLOP:
Attached you will find a letter from Bishop Gregory and Bishop Elias regarding the upcoming telethon on MTV for Caritas Lebanon. WIth all the unrest and difficulties, we ask you to help to the best of your ability. May God bless all our bothers and sisters in Lebanon and beyond and may God bless you and your families.
In Christ,
Fr. Vincent
Cir.23.49
Dear Brother Priests, Deacons and Subdeacons, Consecrated Men and Women, Lay Faithful,
Please find attached a Cartias Lebanon Telethon Letter 2023 (in PDF) for you to share on your social media about Caritas Lebanon's upcoming telethon on MTV. This is a very important fundraiser for Caritas so please share this news as widely as possible.
Thank you
+ Gregory