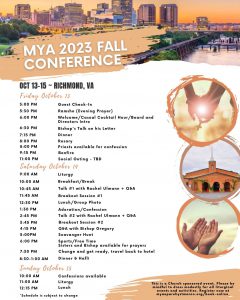 Dear MYA Parents and Members:
Please find attached the information for the mYA Retreat October 13-15, in Glen Allen, Virginia. Registration information and program is attached to this email. I hope some of you will be able to attend. Please contact me if you have any questions.
Blessings,
Fr. Vincent
Dear Brother Priests, Deacons and Subdeacons, Consecrated Men and Women and Lay Faithful, Cir.23.40
We are happy to announce that our third annual MYA Eparchial Conference will be held October 13-15 2023 at St. Anthony Maronite Church in Glen Allen, Virginia. We thank Chorbishop John Faris and the St. Anthony Parish for their generosity and for opening their doors to host our MYA for a fruitful conference weekend. The MYA attendees look forward to meeting the parish following the 11am Divine Liturgy. There will be a brunch hosted by the parish for all to attend.
Please help us to promote this event in your parish and especially among your young adults (ages 18-39). It would be ideal to have at least two young adults from each of our parishes attend this event. Our theme will focus on Navigating Relationships and God's Love for Us. This topic will be applicable for every relationship stage: single, dating, engaged, and married young adults.
The MYA Conference Registration Fee is $239 (early bird pricing ends Sept. 10) and includes the following:
· All spiritual and social events held at the Parish
· Full Course Meals (Friday Night and Saturday)
· Lebanese Hafli (Party)
· Sunday Brunch hosted by St. Anthony Parish
Please note: This fee does not include the hotel room which is $119 per night, plus tax (and can accommodate up to 4 people per 2 double bed rooms).
For more information and to register for the Conference please click on the below link: MYA Fall 2023 Conference Registration | My Site (myaeparchystmaron.org)
We also encourage you to invite a young adult at your parish to make an announcement in the coming weeks about the MYA Conference inviting their peers to attend.
Here is an announcement you can use for your bulletin and social media:
MYA Eparchial Conference
Are you a young adult between the ages of 18 and 39? Are you looking to grow deeper in your faith and connect with other like-minded young adults from your culture and faith? Join our MYA family October 13th-15th 2023 at St. Anthony Parish in Glen Allen, VA for an unforgettable experience. We will discuss relationships and love relating to all states in life including single, dating, engaged, and married couples. To learn more or to register for the Conference visit myaeparchystmaron.org. If you have any questions, reach out to MYA Eparchial President Maya Khoury at mya.eparchystmaron@gmail.com.
Thank you for your support for our MYA.
+Gregory