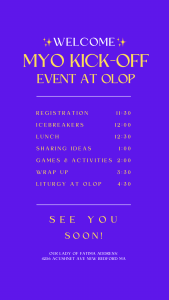 Dear Parishioners of OLOP and Youth:
Attached are the MYO CONSENT AND LIABILITY FORM for the MYO Kick Off Gathering on Saturday, March 25, 2023. All youth grades 7-12 are invited to attend.
MYO members from Boston, Lawrence, Brockton, Fall River, and Cranston, are attending this event as well. It will be a great way to gather our MYO members together and begin planning activities for the future.
The day is planned and the schedule is attached. If you have any questions, please let me know.
God bless,
Fr. Vincent