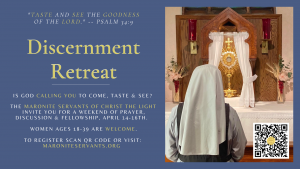 Dear Parishioners of OLOP:
Please find the attachment from Bishop Gregory regarding the Discernment Retreat Weekend to be held at the convent of Maronite Servants of Christ the Light, in Dartmouth. I hope you will be able to join the Sisters and to contemplate the religious life.
God bless you,
Fr. Vincent
Circular #23.05
Dear Brother Priests, Deacons, Subdeacons, Lay Faithful, Catechists, MYA, MYO Leaders,
Our Maronite Servant sisters will be hosting a Discernment Retreat Weekend for young adult women on April 14-16, 2023 at their Mother of the Light Convent in Dartmouth MA.
To learn more about the Sisters' mission in our Eparchy you are welcome to watch and share their Day in the Life video: https://youtu.be/_6S_c24SiPs
Discernment Retreat Weekend for Women, Dartmouth MA
"Taste and see the goodness of the Lord." — Psalm 34:9
Is Jesus calling you to Come, Taste and See? Are you seeking to learn more about prayer, religious life and how God might be calling you to use your gifts to serve him? The Maronite Servants of Christ the Light located in Dartmouth MA, invite young adult women (ages 18-39) to prayerfully consider joining them for a Discernment Retreat Weekend, April 14-16, 2023. The weekend is designed to give young adult women a glimpse into prayer and communal life and to come away, to be with Jesus, our Eucharistic Lord.
To register or to learn more scan the QR Code on the flyer, visit maroniteservants.org or Registration link for the Discernment Retreat Weekend can also be accessed here.
If you have any questions please contact Sister Therese Maria, srtherese2010@gmail.com
Thank you for your prayerful support and helping us to promote religious vocations in our Eparchy.
+Gregory