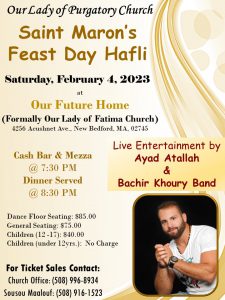 Dear Parishioners of OLOP:
Attached you will find the flyer for the Saint Maron's Halfi, which will be held on Saturday, February 4, 2023, at our future home (formerly Our Lady of Fatima), 4256 Acushnet Ave, New Bedford, MA.
Please mark your calendars. Tickets will go on sale this Sunday, December 18, 2022. Look forward to seeing you all there.
In Christ,
Fr. Vincent