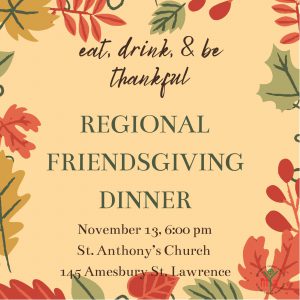 Dear MYA Members:
Sister Theresa sent this to me today and I pass it on to you. I hope many of you will be able to attend, after the Bazaar of course! 🙂
Blessings,
Fr. Vincent
Good morning Monsignors, Abounas & Friends,
I hope this email finds you healthy and well.
Ramona Yammine (Regional Coordinator & MYA President for Lawrence) and their MYA invite your young adults to join them for their next regional event which will be happening next Sunday November 13th at St Anthony's Church at 6pm in Lawrence. See flyer below to share with your MYA.
The young adults will be celebrating friends-giving, sharing a meal, and meeting new people. Please reach out to Ramona Yammine (978) 350-2965 to RSVP or if you have any questions. Thank you.
Peace & Blessings in Christ,
Sr. Therese Maria, MSCL
Maroniteservants.org