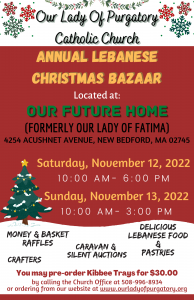 Dear Parishioners and Friends of OLOP:
I am happy to announce that we will be having our Annual Lebanese Christmas Bazaar. This year's bazaar will be especially monumental as we will be hosting this annual event at our future home and community center located at 4254 Acushnet Avenue, New Bedford, MA, 02745 (formerly Our Lady of Fatima).
We invite you and your family to this festive event which promises to please all who enjoy delicious Lebanese food and pastries, money raffles, theme baskets, caravan gifts, silent auction, crafters and vendors, children's games, and more. This year's Bazaar will take place on Saturday, November 12, from 10:00 AM – 6:00 PM, and on Sunday, November 13, from 10:00 AM-3:00 PM.
We also welcome donations of new items for our caravan auction as well as our theme basket raffles.
You may also pre-order Kibbee Trays in advance by calling the Church office or by doing the following:
Go to our current website (ourladyofpurgatory.org) and click on "OLOP Online Store" in the header.
Then click on the "Shop Now" button in the upper right-hand corner.
If you're using a mobile device (a phone) the "Shop Now" button is not there. You'll need to search () for "Bazaar". The Kibbee page should show up.
If you have any problems, please contact Joe Barckett at (617) 803-4087 or jbarcket@aol.com.
We thank you all in advance for your support and generosity and may God bless you and your families always.
Sincerely yours in Christ,
Rev. Vincent W. Farhat and
The Lebanese Christmas Bazaar Committee
NEEDS LIST AND WISH LIST FOR CHRISTMAS BAZAAR
While we prepare for our Christmas Bazaar, below is a list of items needed for the weekend. If anyone is interested in donating towards these items, please contact Smitty Cabral (508-961-5899), Lorraine David (508-965-8824), or the Church office at 508-996-8934. As always, thank you for your generosity and help in making the Christmas Bazaar a success!
Donations for the Food Expense
Gifts for the Caravan
Theme Baskets
Pastries
—
Fr. Vincent Farhat
Pastor OLOP