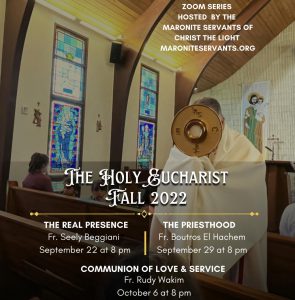 Dear Parishioners of OLOP:
The Sisters of Christ the Light are sponsoring wonderful talks on the Holy Eucharist over the next few weeks. Please see the announcement below and I hope many of you will register for this beautiful event with wonderful speakers discussing the Holy Eucharist.
Thank you and God bless all of you.
In Christ,
Fr. Vincent
Dear Friends,
We hope you had a blessed summer! We are grateful for an active and fruitful summer of mission and service!
In this year of Eucharistic Revival, the sisters will be hosting "The Holy Eucharist" Series starting next Thursday September 22 via Zoom.
This Series will run for three consecutive Thursdays from 8:00-9:15PM.
We will have our own Clergy from the Eparchy present these three talks followed by an interactive discussion:
September 22 The Real Presence— Fr. Seely Beggiani
September 29 The Eucharist & Priesthood — Fr. Boutros El Hachem
October 6 The Eucharist: Source of Love & Communion — Fr. Rudy Wakim
I encourage you to register before September 20th as space is limited and share the flyer and link with your family and friends (open to adults of all ages).
To register click on the following link: https://forms.gle/QbJi2taCPp2LaGaJ6
A Zoom link and reminder will be emailed to you on the morning of the scheduled talk. If you have any questions reach out to the sisters at sister@maroniteservants.org.
Thank you! We look forward to "seeing" you!
Peace & Blessings in Christ,
Mother Marla Marie, Sr. Therese Maria & Sr. Emily Mary, MSCL
maroniteservants.org