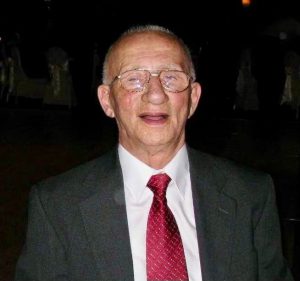 Dear Parishioners of OLOP:
Dr. Wadi Habboosh passed away this past week surrounded by his family. Our condolences go out to his sons Namir, Samir, and Amir, and their families. May Almighty God welcome Wadi into His kingdom and may his soul rest in peace. Funeral arrangements are communicated in this message. Allah yerhammo.
Wadi Daoud Habboosh MD
FEBRUARY 4, 1926 – JULY 27, 2022
Obituary of Wadi Daoud Habboosh MD
Wadi D. Habboosh, MD, 96 of Dartmouth, passed away peacefully at his home on Wednesday, July 27, 2022, surrounded by his family. He was the loving husband of the late Bahija Habboosh.
Born in Mosul, Iraq, son of the late Daoud and Najiba (Monsour Adamo) Habboosh, Dr. Habboosh has been a Dartmouth resident for many years. He received his medical degree in Iraq and completed his residency in England. He was an Anesthesiologist at St. Luke's Hospital in New Bedford for more than 25 years.
Wadi was an AMAZING father, husband, grandfather (Jidu), uncle, and friend. He was honorable, fair, wise, supportive, encouraging, kind, loving and so much more. He treated everyone who came to his home like family and cherished his family tremendously. He was an avid reader, loved history, and enjoyed working with his hands, gardening, building, and telling stories.
Wadi is survived by his three sons and their wives: Namir and Nadia Habboosh; Samir and Dr. May Habboosh; and Dr. Amir and Inam Habboosh. He is also survived by his seven grandchildren: Dr. Noor, Dunia, Dina, David, Edward, Nashwan, and Neda Habboosh as well as many other family members and lifelong friends.
Dr. Wadi Habboosh was part of a generation who achieved so much with so little, sacrificing comfort at home with their family and coming to an unknown place for a better, safer life for their children.
A memorial mass will be held for Dr. Wadi Habboosh at 1:30 PM on Saturday, August 6th, 2022, at Our Lady of Purgatory Church, 11 Franklin Street, New Bedford, MA; which will also be live streamed. Arrangements are in the care of the ROCK FUNERAL HOME, 1285 Ashley Blvd., New Bedford, MA 02845. To leave a note of condolence: www.rock-funeralhome.com
Facebook Live Link:
https://www.facebook.com/Our-Lady-of-Purgatory-Catholic-Church-Maronite-Rite-273152202800282/
In lieu of flowers, please consider donating to Our Lady of Purgatory Maronite Catholic Church at the giving link below:
https://www.ourladyofpurgatory.org/olop-online-donation/
—
Fr. Vincent Farhat
Pastor OLOP
ourladyofpurgatory@gmail.com