Dear P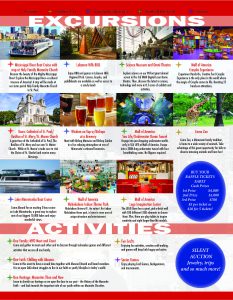 arishioners of OLOP:
Below you will find a message from Bishop Gregory and Msgr. sharbel Maroun along with all the information regarding the 2022 National Apostolate of Maronites Convention to be held in Minneapolis. I hope some of you will be able to attend.
In Christ,
Fr. Vincent Farhat
Pastor OLOP
Dear Brother Priests, Deacons and Subdeacons, Consecrated Men and Women, Lay Faithful, Cir. 22.22
Below please find a message from Chorbishop Sharbel Maroun re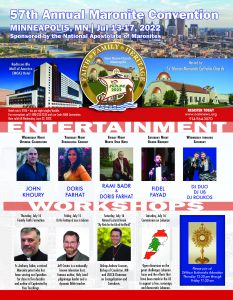 garding the Annual Clergy Conference and NAM Convention in Minneapolis, Minnesota, July 11 – 17, 2022.
As you know the Clergy Conference (Monday evening to Thursday afternoon, July 11-14) is required of all priests serving in the Eparchy. Deacons and Subdeacons are not required to attend but are most welcome.
Please share the information about the Convention to your parishioners.
+ Gregory
"Beloved Brothers in the Priesthood,
Grace to you in the Lord Jesus.
Our community of Saint Maron of Minneapolis is very excited to welcome you to the Maronite Clergy Conference and 57th NAM Convention this Summer after three years.
The Clergy Conference will be held from Monday-Thursday, July 11-14 and the NAM Convention will be from Wednesday-Sunday, July 13-17, 2022.
Below is all the information needed:
2022 NAM Convention Brochure -Final
2022 NAM Convention Registration and Additional Attendee Forms 5.0
Clergy Conference Letter and Registration Mailing
2022 NAM Convention Silent Auction Letter and Form Clergy 2.0
2022 NAM Convention Ad Book Form 2.0
2022 NAM Convention Clergy Conference Mailing
One document that contains all the necessary information and the others are the individual parts for the Ad Book, the Silent Auction and your registration for the different events. Your parish will also be receiving some brochures and fliers in the near future. But please, do not delay in submitting your ad page for the Commemorative Book.
Please, start advertising the Convention in your bulletin and social media and feel free to email any of the attached documents to your parishioners. I thank you for your kind attention to this matter and for your loving help.
Wishing you a blessed Lenten journey,
In Christ's Hope,
Abouna sharbel Maroun"