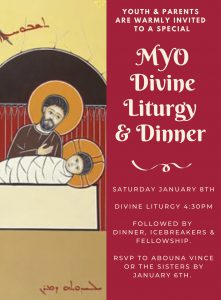 Dear Parents & MYO:
Wishing you all a blessed Christmas and a healthy and happy New Year! You have been in our prayers!
Fr. Vince and I spoke about the need to bring the MYO together at Our Lady Of Purgatory Church. This ministry has been very close to our hearts and we would like to revive this ministry at our Church.
We would like to warmly invite our youth (Grades 7 to 12) and their parents to join us for a special Youth Liturgy & Dinner at OLOP on Saturday, January 8 at 4:30pm. It is a big blessing for us to bring our youth together to connect, pray, serve, have fun and grow as one family in Christ.
We encourage parents with youth to come and join us as we pray together and enjoy some fellowship, food and icebreakers. Our hope is to establish our own MYO group here at OLOP and to meet on a monthly basis.
If you have any feedback or would like your child to be involved please reach out. The sisters will be following up with a phone call in the coming days to encourage parents with youth to get involved. Please help us spread the word with the youth in our community.
Our young people are so talented and have so much to give! Let us as a parish community nuture, support and pray for them! They are a gift to us!
Peace In Christ,
Sr. Therese Maria, MSCL
Maronite Servants of Christ the Light
maroniteservants.org