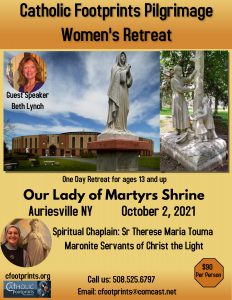 Dear Parishioners of OLOP:
The Maronite Sisters of Christ the Light are hosting a Woman's Retreat on October 2, 2021. The flyer and information are attached Flyer and Registration Form PDF. This pilgrimage/retreat day will be at the Auriesville Shrine in NY on Saturday October 2.
I hope some of you may be able to attend. If you have any questions, please contact Sister Marla or Sister Theresa.
God bless,
Fr. VIncent