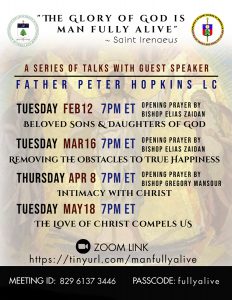 Dear Parishioners of OLOP:
Please find the attached letter from Bishop Gregory regarding the series of talks on The Glory of God is Man Fully Alive." I hope many of you will be able to join in on these talks. Thank you.
Fr. Vincent
Dear Brother Priests, Deacons and Subdeacons, Religious Men and Women, Lay Faithful:
The Office of Family and Sanctity of Life for the Eparchy of Saint Maron and the Office of Family Life Ministries for the Eparchy of Our Lady of Lebanon will continue with the monthly series of online talks based on Saint Irenaeus' quote "The Glory of God​ is man fully alive." If you missed the January talk "Love Story: The Story of Man's Creation: (Gen 1: 26-28)", you can watch it here. All talks at 7 pm EST.
Talk 2 – Beloved Sons & Daughters of God (Mt 19: 13-15) – Tuesday February 16, 2021
Talk 3 – Removing the Obstacles to True Happiness (Lk 13: 6-9) – Tuesday March 16, 2021
Talk 4 – Intimacy with Christ (Jn 15: 7 – 17) – Thursday April 8, 2021
Talk 5 – The Love of Christ Impels Us (Jn 4: 4-54) – Tuesday May 18, 2021
God became man to elevate our humanity and give us the dignity to be sons and daughters of God. This series of talks will help us appropriate what is already ours and show us how to live in Christ. When we embrace our vocation as God's children, fully alive in Christ, we can work faithfully to uphold the dignity and sanctity of every human life from the moment of conception to natural death.
Bishop Elias Zaidan will offer an opening prayer on Tuesday February 16th and March 16th, Bishop Gregory will rejoin us for opening prayer on April 8th. Q & A to follow Father Hopkins' talk. Please encourage your parishioners to join us.
For more information, you can click here. Please promote this on social media.
+ Gregory