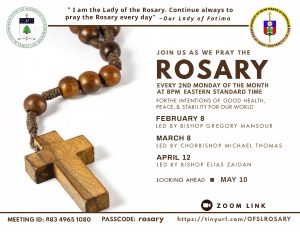 Dear Parishioners and Friends of OLOP:
Below. please find the notification from Bishop Gregory regards praying the Rosary via Zoom. The link is attached to this email as well. Anyone who would like to join and pray with us is most welcome. Thank you and God bless you.
In Christ,
Fr. Vincent
Dear Brothers and Sisters in Christ,
Please disregard the initial email and flyer on the Monthly Rosary on Zoom which was sent to you on Monday, January 25, 2021, and replace with this one. Bishop Elias Zaidan and the Eparchy of Our Lady of Lebanon will now join us each month for Prayer.
As I mentioned in the first email, after speaking with some of our deacons, subdeacons and their spouses, and praying for the many intentions of our Eparchy and the world, it was suggested that we pray the Rosary together once a month on Zoom for these intentions.
Thus, on the second Monday of the month we will start, February 8, 2021 at 8pm. It should take about a half an hour. I invite all the Maronite faithful – clergy religious and laity – to join us via Zoom for our intentions and for the whole world.
Please find the Zoom link information: https://tinyurl.com/OFSLROSARY
Meeting ID: 883 4965 1080
PASSCODE: rosary
Thank you. I hope to "see you" February 8, 2021 at 8pm.
+ Gregory