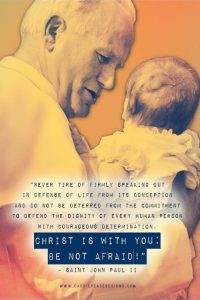 Dear Parishioners of OLOP:
The sanctity of life is one of the most important issues we face as Catholics. It is our responsibility to inform people about the sanctity of life. As we approach the annual Pro-Life March in January, the anniversary of Roe vs Wade, we come together and pray for the silenced children and their parents. Please join the Eparchy Pro-Life event via Zoom this Sunday at 7:00 PM. Details follow below.
Dear Brother Priests, Deacons and Subdeacons, Consecrated Men and Women, Lay Faithful:
The National MYA Board will be hosting a Pro-Life Event via Zoom this Sunday January 17th at 7pm EST.
Please share the FLYER below, along with all the details, and if possible, plan to attend this event with Lauren Menz. She will be speaking to our young adults on advocacy work, the science and consequences of abortion, and more. She is the Vice President of Strategic Partnerships for Live Action. To learn more about the important pro-life advocacy and work of Live Action visit: https://www.liveaction.org
Topic: Let's Talk About Life!
Time: Jan 17, 2021 07:00 PM Eastern Time
Join Zoom Meeting:
https://us02web.zoom.us/j/87974017698
Also, please share this with your young adults and parishioners through email, social media, and whatever way you deem fit in order to help promote this event.
Thank you.
Bishop Gregory J. Mansour
Father Tony Massad
Sister Therese Maria Touma, and
The National MYA Board