Dear Parishioners of OLOP: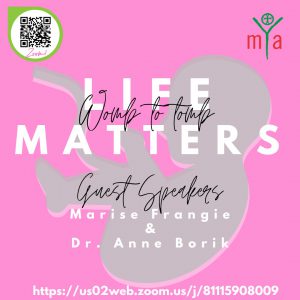 Please see the message from Bishop Gregory regarding Life Matters conference. I hope many of you will be able to Zoom in on this beautiful talk.
In Christ,
Fr. Vincent
Dear Brother Priests, Deacons and Subdeacons, Consecrated Religious, Lay Faithful:
In the special month of October, in which we celebrate the Respect for Life and the month of the Holy Rosary, the National MYA Board has been hard at work hosting different virtual events and prayers for the last several months.
They are reaching out to inform you of a special event for the month of October.
They will be hosting a discussion entitled:
Life Matters: Womb to Tomb
Monday, October 19th @ 8:30 pm on Zoom.
https://us02web.zoom.us/j/81115908009
Guest speakers are Marise Frangie and Dr. Anne Borik and they will be discussing topics related to Life and Church teaching, with the hope of understanding this valuable gift our Lord has bestowed upon us, life.
Attached is the flyer for the event. Please share this with your young adults and parish through email, social media, and whatever way you deem fit, to help promote this event and as always, we would love for you to join us as well.
+ Gregory