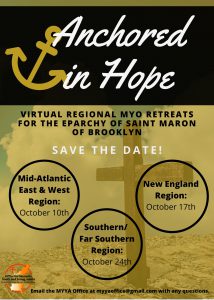 Dear Parents and MYO Youth:
This weekend we are having a virtual retreat titles "Anchored in Hope". MYO Members who are 13-18 are invited to register at the link below. This event will be held on Saturday, October 17, at 6:30 PM. Stay well and God bless,
Fr. Vincent
Hi Father Vince,
Sign-up is being managed through the national MYO website. The link is maroniteyouth.org. Once the youth and youth leaders are on the page, they will see clear instructions on what to do next.