OLOP Mini Christmas Bazaar/Take Out Food Fest – Sunday 10/25/20 from 1200-500 PM EDT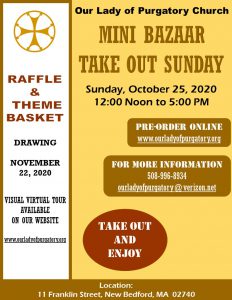 We are happy to announce that we will be sponsoring a Mini Christmas Bazaar/Take Out Food Fest on Sunday, October 25th from 12 Noon to 5 PM! This special fundraiser is taking the place of the Summer Festival and Christmas Bazaar due to Covid-19. In light of the pandemic, this event will be pre-paid & carry-out only.
The full menu of food and pastries which also serves as an order sheet is available here -> Mini Bazaar order sheet and can be turned in ahead of time with payment. If you prefer to order online directly, instructions for placing an online order which also includes more details on the mini Christmas Bazaar and take out food fest can be seen here -> OLOP Food Festival 3 and the following link allows you to place your order online -> Online Food Ordering Form and then all you need to do is drive up on the 25th and pick up your delicious food. We will also have forms available in the Church for your convenience.